Roald Dahl Day September 13th 2023
Everyone here at FEJS enjoyed our Roald Dahl book day. We loved seeing the children (and teachers) dressing up as their favourite characters and engaging in various activities throughout the day.

God and The Big Bang Workshop September 19th 2023
The children took part in God and The Big Bank Workshop, where they explored the compatibility of science and faith. The children asked some very thought provoking questions and gained a greater insight into both areas.

Harvest Festival October 6th 2023
The year 4 children hosted this years Harvest Festival assembly and it was lovely to see so many families attend. Our school community were very generous with the food donations and these were donated throughout the wider community.

Blue Cross Dog Safety Assembly October 16th 2023
The children were taught all about Dog Safety in an interactive assembly with Julia from the Blue Cross.

Tea and Talk for Mental Health October 13th 2023
A big thank you to all the parent/carers that attended our Tea and Talk Mental Health event today promoting 'Mental Health is a universal Right'. We would like to personally thank Buxton Citizen Advice, Our Local safer Neighbourhood Team, Build Sound Minds, Buxton Samaritans, High Peak CVS for coming along to make it such a success.
Autumn Disco October 20th 2023
Fairfield Endowed c of e Junior School PTA would like to say a big thank you to all those who attended the end of term disco and made it a great success, the children really enjoyed themselves. We look forward to seeing you at the next event.

Anti-Bullying Week - Odd Socks Day October 13th 2023
The children and staff wore odd or bright socks in support of Anti Bullying Week. The odd socks represent that we are all different and unique. It was great to see so many of the children and staff wearing odd socks.
Anti-Bullying BBC Teach Live Lesson October 13th 2023
As part of our Anti Bullying week activities the children took part in a BBC Teach live lesson: Make a Noise. They were joined by Dr Ronx from Operation Ouch! They explored how to: spot bullying behaviour; identify the differences between banter and bullying behaviour and how to speak up when they see it.

Citizen Advice Hate Crime and Discrimination Assembly November 13th 2023
Today the assembly was delivered by Mrs Mackenzie from Buxton Citizens Advice. During the assembly she talked to the children about hate crime and discrimination and the impact on others. The children also learnt how bullying behaviour can have an effect on another person.

Super Sewers Assembly November 15th 2023
'Be a Binner Not a Blocker'. All our children enjoyed an interactive Super Sewers assembly today, learning about what shouldn't be put down our drains. Thank you to Severn Trent.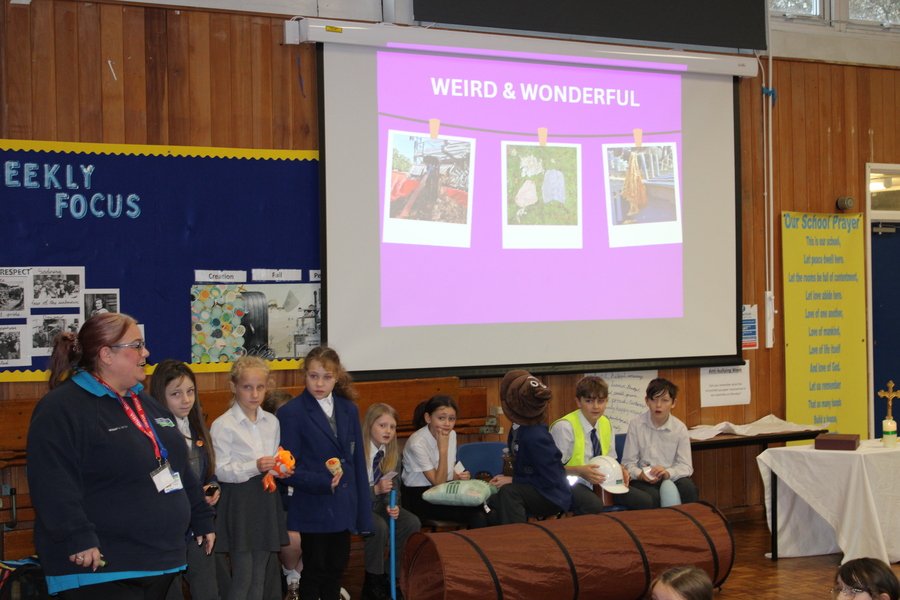 Year 5 and 6 Knife Crime Assembly November 16th 2023
Thank you to our Safer Neighbourhood Team who came and ran a fantastic session on knife crime with our year 5 and 6 students.